Please Review Grading Regulation Amendment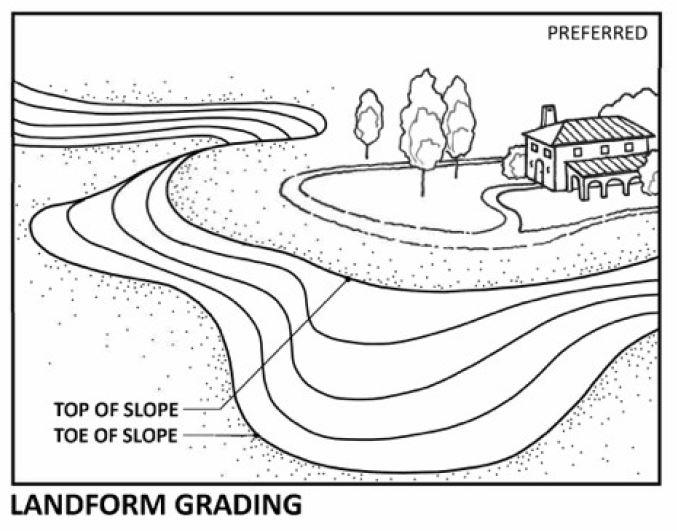 An integral part of Rancho Santa Fe's community character is the rural and natural effect of the existing landforms, which create hills and valleys throughout the Ranch. Home construction requires a certain amount of grading and moving earth, and the Association is working to create regulations that will allow for modifications that will benefit homeowners' plans, while preserving the natural character the community values. The RSF Association studied similar homeowners associations and communities to determine appropriate approaches for Rancho Santa Fe in its evaluation of the current regulation, which has not been amended since 2008. See the proposed amended regulation (clean version) to the current Slope Protection Regulation, Chapter 41 of the Regulatory Code, and the current regulation with redlines shown. RSF Association is committed to producing a fair and reasonable regulation to uphold the individual and natural characteristics of the Rancho Santa Fe community.
Highlights of changes to the existing regulation include the following:
Maximum heights of cuts and fills have been reduced from 10 feet to 8 feet

Maximum heights of retaining walls are defined and set at 5 feet

Minor and major grading quantities are defined and set at 100 cubic yards or 3 feet of cut or fill

Minor 25% slope intrusion is defined as 10% intrusion into a 25% slope area

Fill slopes are softened from a 2:1 maximum to a 3:1 maximum. Cut slopes are increased from 1.5:1 to a 2:1 maximum

Landform grading is defined, depicted and required for ensuring that natural landforms are preserved
Other parameters up for consideration based on input include the following:
No grading or retaining walls are permitted within the setbacks

The amount of grading will be limited using a formula as follows:

Grading in slopes of up to 15%: a maximum of 80% of a parcel can be graded, but reducing the amount by 4% for each percent the average slopes exceed 5%. Thus, a parcel with 5% slopes can be 80% graded, 10% average slopes can be 60% graded, and 15% average slopes could be 40% graded.
Grading in slopes 15-24.9%: fills are not allowed, but instead, if necessary, pads should be created by "cut and export".
For more information regarding the Association's research on similar communities' grading regulations, click here, and here.
Members are encouraged to review the proposed regulation and share written comments at MemberInput@RSFAssociation.org.